Rio Secreto
Category: Attractions
Distance from Hotel: 9.71 miles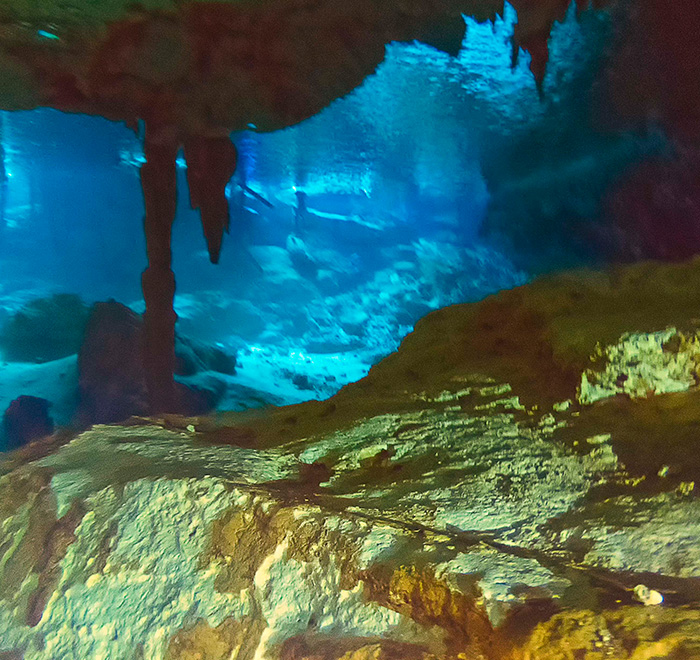 Discover A Hidden Mayan Underworld
Caves and cenotes dot the Yucatan Peninsula, forming a vast underground world. Rio Secreto is one of those places, where a magical underground river of crystal-clear water flows past amazing geological formations, far from the light of day. Join a guided Cancun cave tour and explore stalactites and stalagmites that sprout in every direction.
Hike and swim in the crystal-clear waters along the 1 km route of the tour. A constant, cool temperature means this is the perfect activity any time of the year. A wetsuit, life jacket, helmet with lamp, buffet lunch and soft drinks are included.
Details
Hours -
Tours begin daily at 9:00 AM, 10:00 AM, 11:00 AM, 12:00 PM & 1:00 PM.
Events
Riviera Maya Film Festival (May)
Corona Elements Music Festival (Sep)
Playa New Year's Eve Celebration (Dec)
Activities
Swimming
Light & Sound Show (optional)
FAQ Section
Where is Rio Secreto?

Near Playa del Carmen is a vast network of underground caves, cenotes and rivers, hidden away from the light of day. Many tourists visit the Yucatan Peninsula never knowing of the existence of this magical place. Rio Secreto gives everyone a chance to explore this amazing underground place with fun guided tours of a crystal clear river that flows silently past stalactites and stalagmites that took millenia to form. It is easy to join the adventure by simply hopping on a convenient collectivo or hiring a private taxi. Rio Secreto is across the main road from Xcaret & Xplor.

Can I bring a camera with me to Rio Secreto?

Your Rio Secreto adventure will have you descending ladders, hiking and swimming in close proximity to natural structures that took centuries to form. Many surfaces are also slippery, making it important that your hands are free so that you can focus on safety. For that reason and to protect the natural features of the caves, you are not permitted to bring cameras or video equipment into the cave. But don't worry! We have professional photographic equipment and lighting in the caves to safely capture every minute of your adventure. These photographs are available for purchase.
Helpful Link