Xcaret
Category: Attractions
Distance from Hotel: 10.60 miles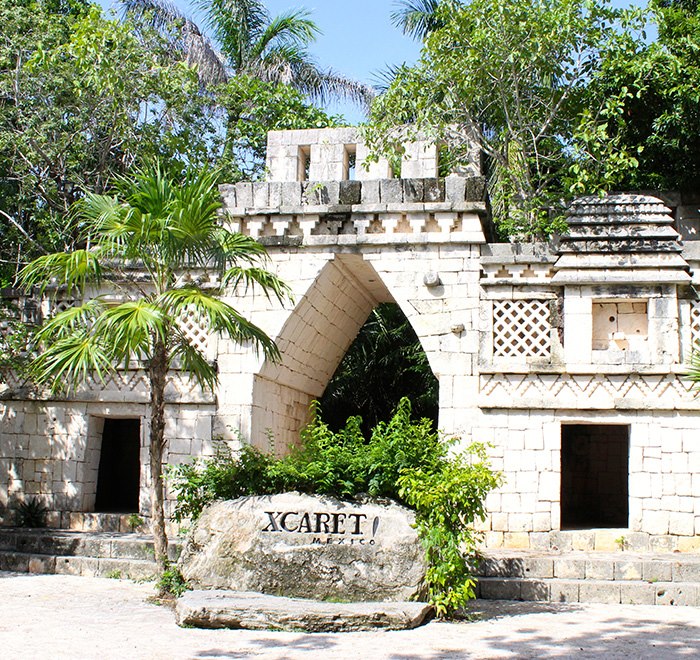 Fun Riviera Maya Theme Park
Discover the culture and history of Mexico at this Riviera Maya eco theme park. Begin your journey at Xcaret's vibrant main plaza, filled with authentic Mexican food, crafts and jewelry. Explore meandering jungle trails that take you through Mayan villages, a cemetery, chapels, a traditional hacienda, caves, archaelogical sites and to secluded sand beaches perfect for snorkeling.
Enjoy live shows and a scenic tower that gives you bird's eye views of jungles and the Caribbean Sea. Kids will love the special children's play area and activities. A buffet lunch with unlimited soft drinks rounds out the day.
Details
Hours -
Open daily, 8:30 AM to 10:30 PM.
Events
Sacred Mayan Journey (May)
Festival of Life & Death Traditions (Oct/Nov)
Activities
Cultural Activities
Swimming & Snorkeling
Animal Exhibits
Shopping & Dining
FAQs
What does Xcaret admission include?

Enjoy a full day immersed in the culture and nature of Mexico at this popular, family-friendly theme park. Admission includes access to more than 40 exciting attractions and interactive activities. Enjoy amazing cultural performances like the Papantla flyers and traditional Mayan dancers. Hike jungle trails to explore ancient villages, a Mexican cemetery and pristine beaches. Learn about local creatures at the bird aviary, coral reef aquarium, butterfly pavilion and turtle sanctuary. To enhance your visit, you can also purchase special Food & Beverage and Transportation add-ons.

What is there to do at Xcaret?

With more than 40 fun attractions and activities at Xcaret, you'll never run out of things to do. Explore winding jungle trails that lead you to ancient Mayan villages, a Mexican cemetery, caves and beautiful sand beaches perfect for snorkeling. Tour Jaugar Island, the bird aviary, butterfly pavillion and turtle sanctuary. Take a snorkel tour, play in underground rivers and swim with dolphins. Enjoy live performances like the equestrian performance, an ancient flying ritual and spectacular song and dance show. Children's World and Adventure Kids programs are available, too.
Helpful Links