Xel-Há
Category: Attractions
Distance from Hotel: 33.97 miles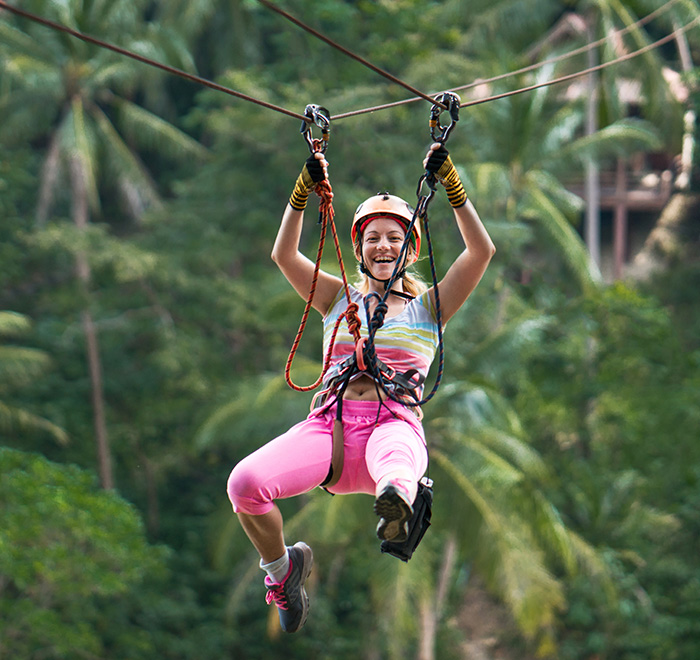 Thrilling Riviera Maya Water Park
Nestled in a pristine bay that brings together the best of nature, Xel-Há is one of the best theme parks in the Riviera Maya. Here the whole family can explore land and sea, climb the lighthouse for spectacular jungle and ocean views, then take the plunge on a 99' water slide. Relax on gentle river tours.
Snorkel among tropical fish in the crystal clear waters. Jump off the dramatic Cliff of Courage into turquoise waters below. Explore zip lining, rope swings, an aquatic obstacle course, jungle hiking trails, cenotes and the Queen Conch sanctuary, too. An optional buffet completes the day.
Details
Hours -
Open daily, 8:30 AM to 6:00 PM.
Events
El Grito & Independence Day (Sep)
Activities
Hiking
Children's Activities
FAQs
What does Xel-Ha admission include?

The Xel-Há All Inclusive package is your ticket to fun under the Mexican sun. Enjoy unlimited snorkeling, an all-you-can-eat buffet and domestic bar during your visit, entrance to the scenic lighthouse with water slide, all Adventure World activities including aquatic zip lines, cliff jumps and rope obstacle course and special games at the Children's Playground. You can also upgrade to the Xel-Há Total All Inclusive package and enjoy an additional activity like the Adrenalina high-speed boat ride, Sea Trek underwater adventure or Snuba.

What activities are kid friendly at Xel-Ha?

Xel-Há is the perfect place to spend the day with the kids. Children's World offers little ones fun for hours with a wading pool, water slide, rope climb, playground, seesaw, hanging games, crocodile tunnel and water lilies. There are even friendly turtles, so you can snap the perfect photo. There are land-based activities like painting and drawing, too. Optional activities like the Manatee or Stingray Encounters introduce kids to the wonders of the underwater world. And a Snuba excursion lets everyone explore the deep in a safe and fun way.
Helpful Links